Update on My Activities
Since I gave up social media for Lent, I have felt extremely isolated. Life is very quiet when you work from home, have tons of work to do, and aren't on social media.Add the weather that doesn't quit to the mix, and let me just say that this Lent has been extremely challenging.
Part of the reason I took this time off was to allow myself the uninterrupted time I needed to focus on the two productions I have on my plate:
A Papal Pilgrimage in the Holy Land, which is the new name of our special on Pope Francis' pilgrimage to the Holy Land last May, and
The Faithful Traveler in Portugal.
I have been making some amazing progress on both, and I have to say I am very proud of what I'm creating and can't wait to show it to you.
Opening Sequences
One of my favorite things to create for any series is the opening or title sequence. I think it sets the mood of the production and gives people a taste of what they're going to see. Recently, I cut my first attempt at an opening sequence for A Papal Pilgrimage in the Holy Land and I shared it with some friends on social media to get their take. In an effort to invite you all in to the production process, I thought I'd share it with you. Keep in mind, it's my first attempt, so what ends up in the final production may be a twist of this or something completely different.
[vimeo width="550″ height="309″]https://vimeo.com/122583835[/vimeo]
I'd love to get your take on this. Tell me in the comments: what do you think? Many of my friends thought it was too fast and overwhelming, while others thought it was just right. One friend summed it up perfectly when she said it was just like me: exciting and a little overwhelming. LOL. I'm not gonna disagree with that.
It's always such a joy to revisit footage and photos from my journeys. I'm the kind of person who remembers vividly what was going on in each shot, so I get to relive–for better or worse–the entire trip as I review what I captured along the way.
Going Back to the Holy Land, in a BIG Way
As you may know, I am organizing a pilgrimage to the Holy Land April 17-26th, so I have been gearing up for another trip to the Holy Land. However, a week ago, I was contacted by a dear friend of mine who works with the Jordan Tourism Board. This friend was instrumental in convincing the JTB to sponsor our trip to Jordan last May. She told me that the JTB and Royal Jordanian Airlines were organizing a bloggers tour of Jordan, and she wanted to know if I knew anyone who might be interested.
HAHAHA. I thought, as I cried in my milk.
ME!!! I screamed in my head. But I didn't want to be greedy. As it is, I'm still not finished with my production from last year, and I didn't think they'd be willing to send me out there again.
Fortunately, I was wrong.
Christine asked if I'd be interested, and I was on the phone with David a second later. (David is doing well, by the way.) He said to me what I thought when Christine first mentioned the trip: "Who knows?! This might be God giving you one last hurrah!"
I hope not, but I'm willing to take it.
So, April 9-18th, I will be blogging my way through the spectacular country of Jordan, seeing things I missed last time, like PETRA, Mukawir (where John the Baptist was beheaded), and other amazing places. And… I'll get to see some things I saw last time and meet some dear friends.
Join me on a look back and a look forward:
I'll get to see my dear friend, Father Fergus Clarke, atop the amazing Mount Nebo! (He's already promised us the red carpet treatment, but I'll settle for a hug!)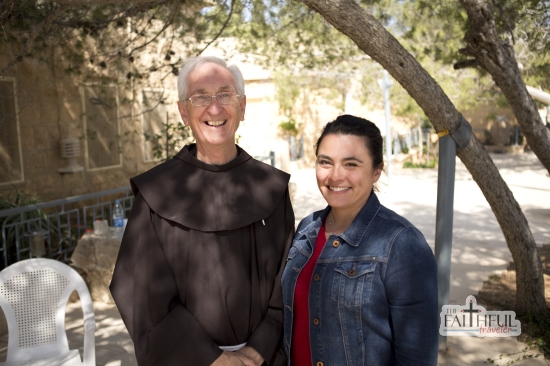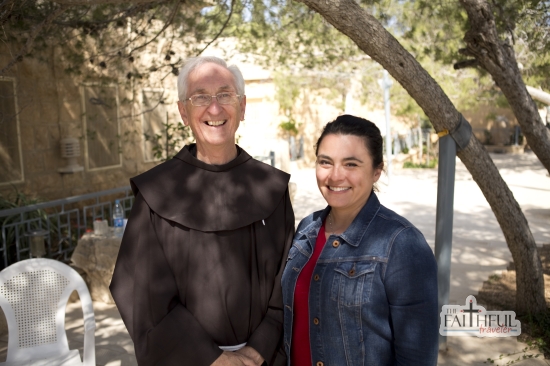 And I'll be blessed to look out and see the Holy Land from the very place where MOSES AND Pope St John Paul II, and probably many, many, many more saints in between looked out.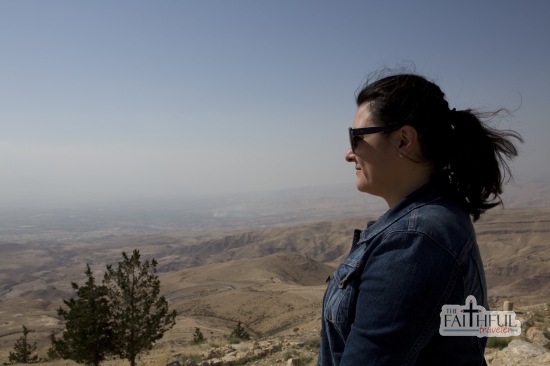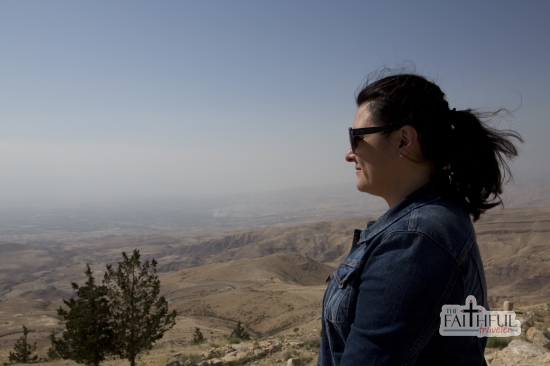 I'll get to go back to Bethany on the Jordan and see Rustom Mhkjian, the awesome Assistant Director and Director of Archaeological Works at the Baptism Site.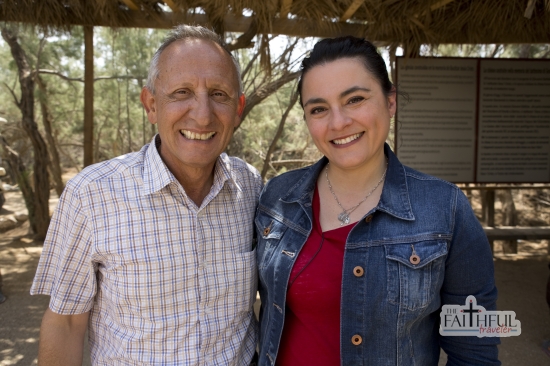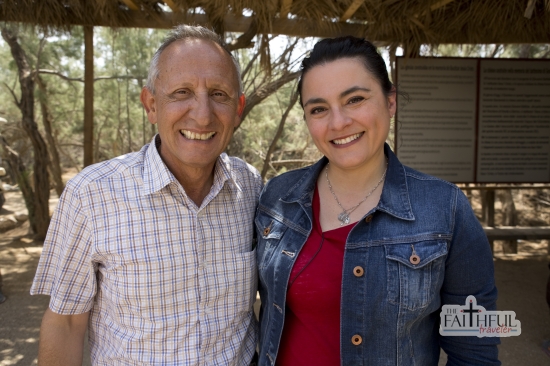 Maybe I'll get to see our dear bus driver from last time, Hamis, who spoke very little English, but had the best smile and hug ever!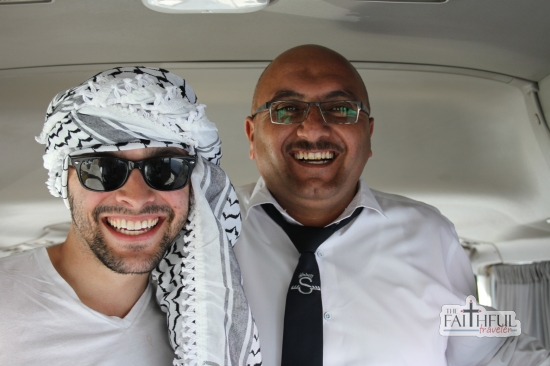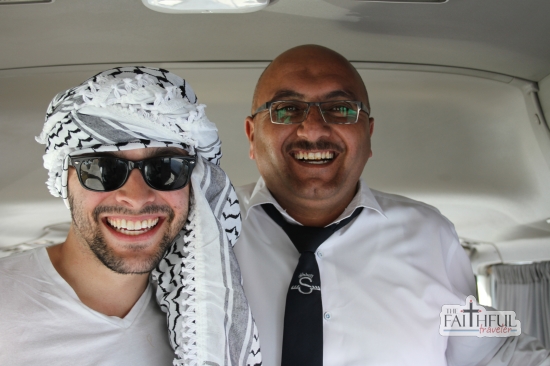 Or our awesome tour guide from the last time, Izhaq!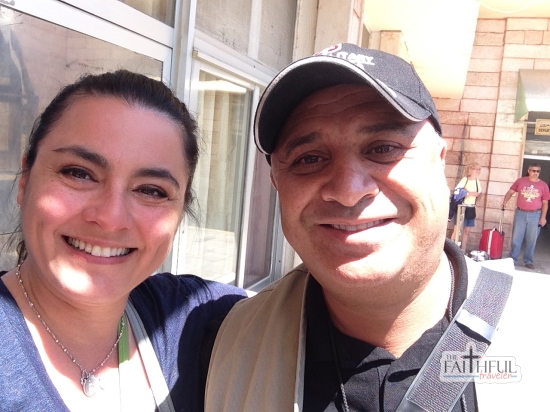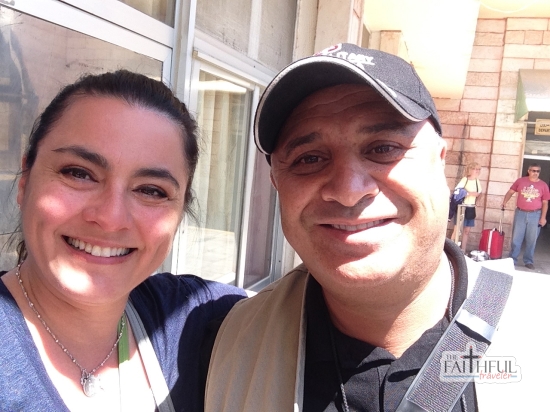 Or the wonderful Father Nabil Haddad.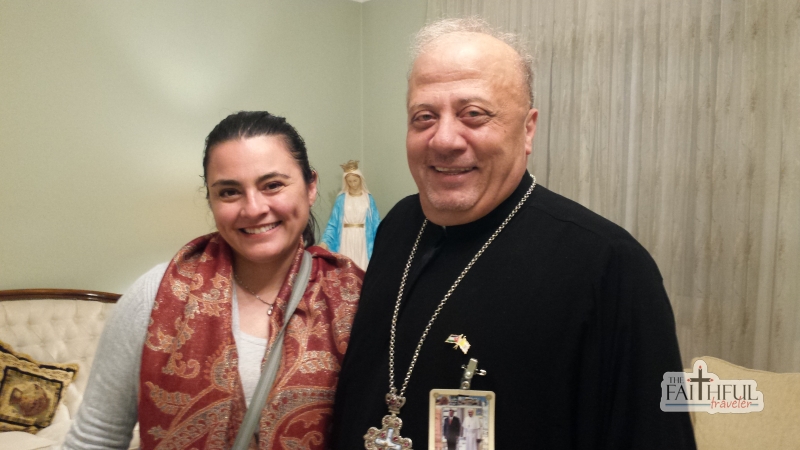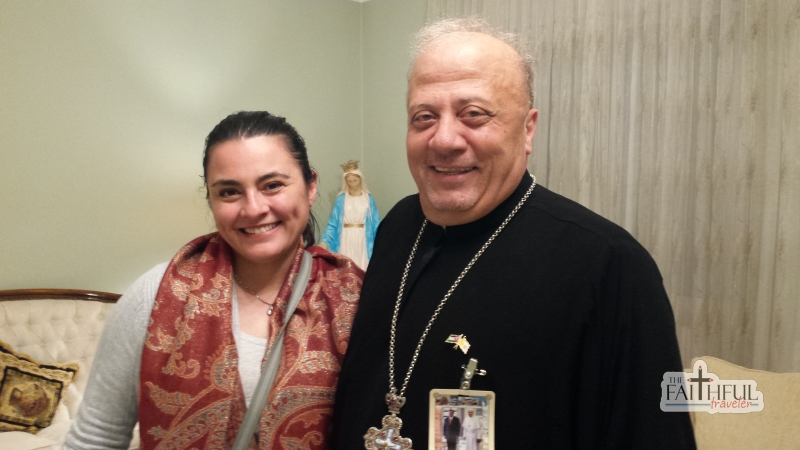 Two people I know I'll get to see are my dear friends, Marge Fenelon and Denise Bossert, both of whom will be joining me on this amazing trip (to Jordan).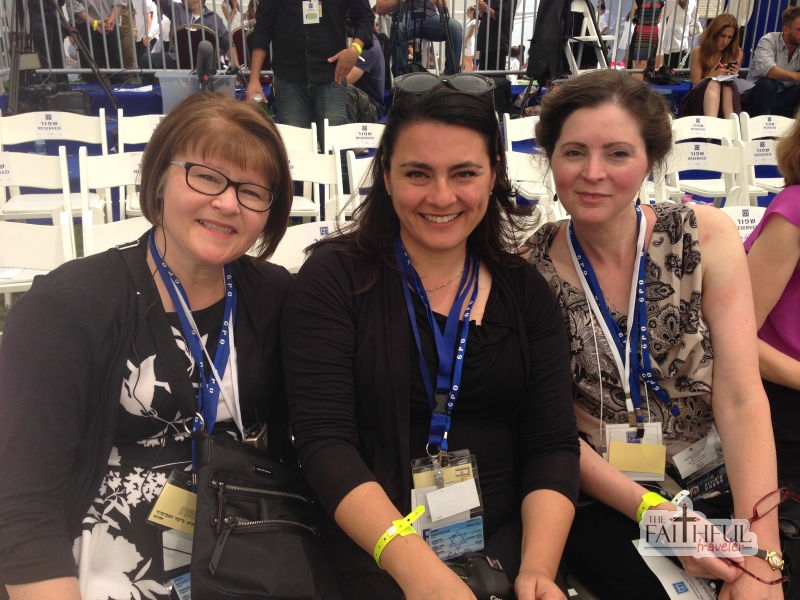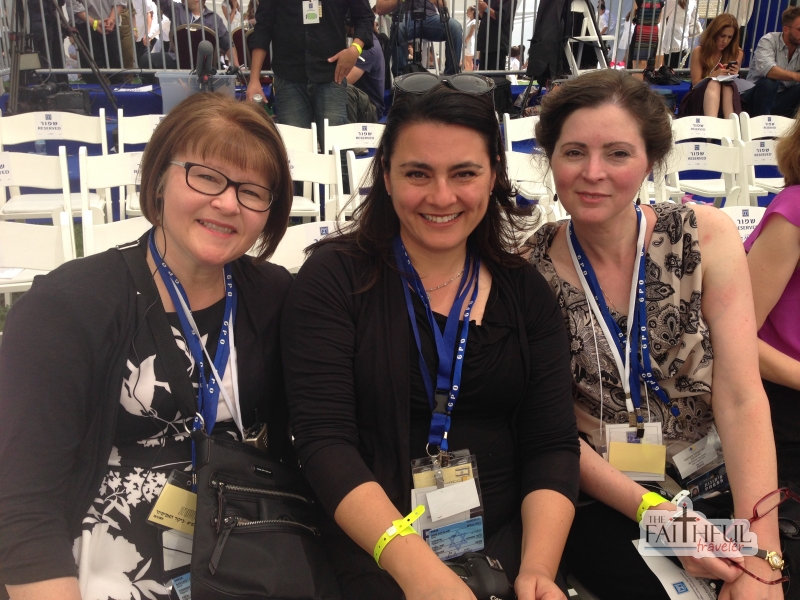 At the end of the press tour, I will leave the group and once again cross the border from Jordan into Israel, where I will then begin my pilgrimage with my very own pilgrims who I am so excited to meet! And there, too, will I be blessed to see some old friends, like the Salman family!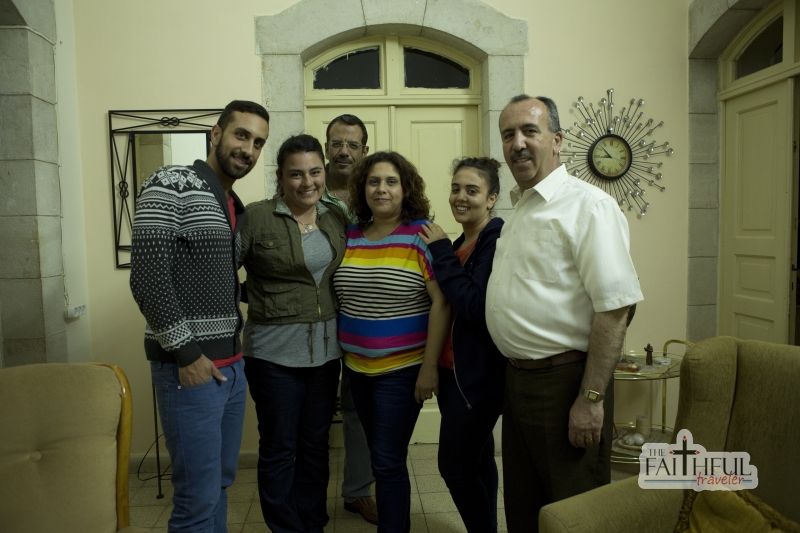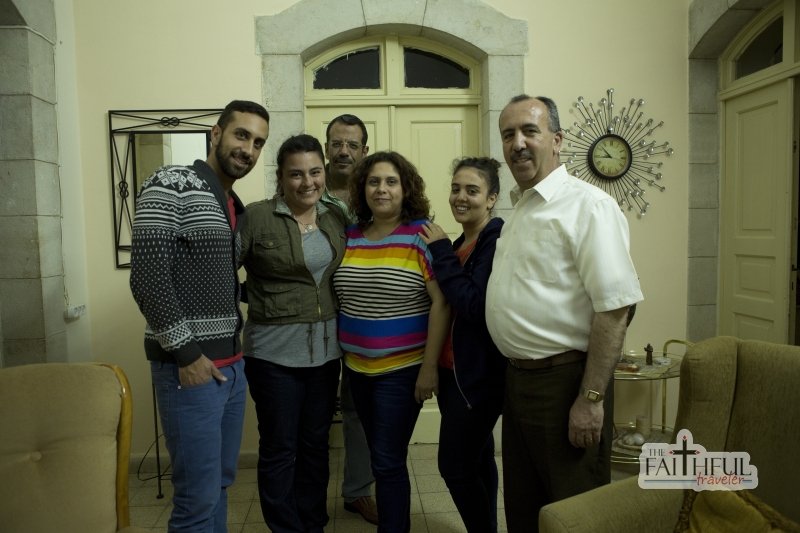 And my dear friend, Shibly Kando!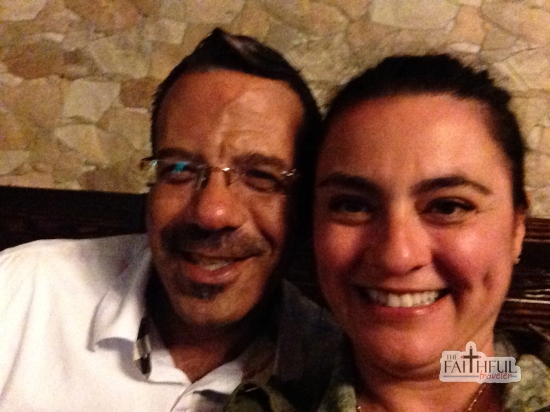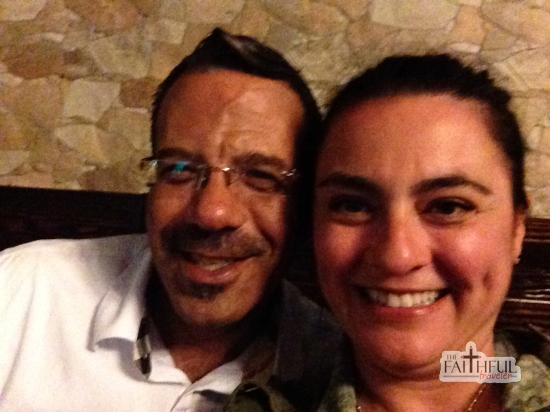 The people are always the best part of any trip, but of course I will be blogging about the many amazing sacred sites we'll be visiting and yummy foods we'll be enjoying…
So, be sure to tune in after Easter, when I pack my bags and head back to the amazing Holy Land: Jordan, Israel, and Bethlehem!
And know that I will be praying for you all!